Soft Cloth Tunnel Car Wash
Camps Car Wash
285 Amherst Street Nashua, NH
Summer Hours:
MONDAY-SATURDAY 7:30-7:00 / SUNDAY 8:00-6:00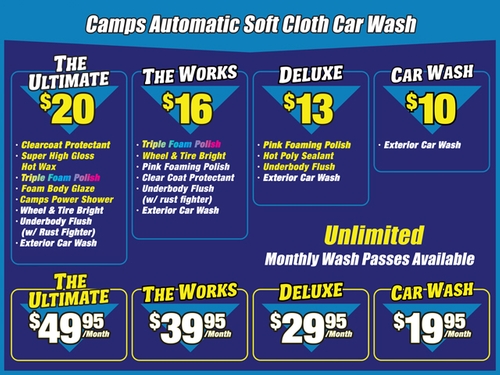 Express Car Wash $10
Our exterior wash consists of a mix of soft, gentle cloth and high pressure water jets. Every wash receives a pre soak detergent to loosen road film and salt, 2 applications of foamy soap to lubricate our soft cloth and float dirt and grime away from your finish, a spot less final rinse and 120 horsepower of touch-free air drying.

Individual Add -Ons - Add any of the following options to our Exterior Car Wash.

Underbody Flush $2.00
The underside of your vehicle is rinsed to help remove damaging road salt and grime. Your wheel wells are flushed with 600 PSI of water by our state of the art high pressure blasters that actually follow the wheels as they pass by.

Underbody Flush with Rust Fighter $3.00
Similar to our underwash but a rust inhibitive additive to help prevent corrosion.

Wheel Cleaning $3.00
We have spent a lot of time and effort trying to produce the cleanest wheel possible. But we think the results were worth it. Our automated process applies 4 applications of wheel cleaner before being blasted clean with 600PSI of water. It sounds like overkill, but brake dust doesn't stand a chance.

Pink Foaming Polish $3.00
We apply a heavy layer of foaming polish that is buffed into the paint by our soft cloth to prep your car for an application of either our Poly Sealant or Clearcoat Protectant.

Triple Colored Foaming Polish (Included in The Works & Ultimate Wash)
We load the car up with three thick layers of foaming polishes to thoroughly deep clean your cars finish. Red, Blue and Yellow layers add an exciting show but also prepare your finish for one of our protectant coatings. Included in The Works & Ultimate wash packages


"Formula Finish" 2 Step High Gloss Hot Wax Process $7.00

Step 1: Blue Glowing "Foaming Glaze" deep cleans in combination with our soft cloth wash process to prepare for application of high gloss hot wax.

Step 2: Formula Finish brand Synthetic Hot Wax is applied thick and foamy to obtain complete coverage of your vehicle producing an ultra high gloss finish.

"Formula Finish" Clearcoat Protectant $5.00
This liquid spray protectant adds a layer of superior protection to your cars finish. Applied at the end of the wash process this product offers long lasting shine that you can really notice! UV blockers help prevent clearcoats from becoming "cloudy" so the true base coat color shines through. Included in "The Works" and "Ultimate" wash packages.


Tire Shine $3.00 or $2.00 when added to a Premium Wash Package
Restore the look of your tires with our Tire Shine tire dressing. Not too shiny, this product makes your tires look new again! Applied automatically.

Ceramic Coat $5.00
This liquid spray repellant/protectant is a true game changer. Hyper hydra-phobic properties repel rain and help keep your vehicle cleaner longer. Super high gloss.
Camps Gentle Touch Car Wash at 285 Amherst St. Nashua, NH 03063
Camps Touch Free Car Wash 487 Amherst St. Nashua, NH 03063
Camps Touch Free Car Wash 21 Charron Ave. Nashua, NH 03063
Quick and Clean Laundromat 487 Amherst St. Nashua, NH 03063