Touch Free Car Wash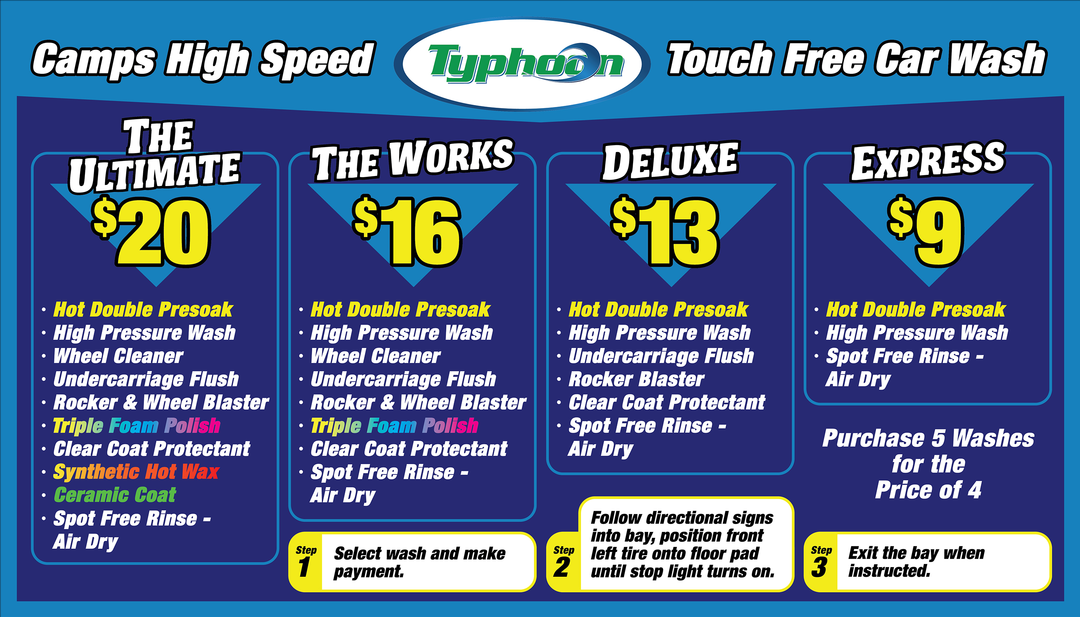 Open 24/ 7 -All Washes Include Touch Free Air Drying!
Safe and Easy Touch Free Car Washing
Camps Typhoon touch free car washes clean your vehicle without brushes or cloth. Nothing touches the vehicle except high pressure water, detergent and air. Since nothing touches the vehicle, this method of automated washing is great for oversized vehicles that meet the height requirement, cars with roof racks and even dually's.
Automated Pay Stations
Camps Typhoon touch free car wash is controlled by easy to use automated pay stations. Select a wash on the screen and insert payment with either a credit card or cash. Any change is returned in dollar bills, not quarters.
Free Vacuum Cycle With Any Touchfree Wash!
Camps Typhoon Touch Free Wash
Camps Gentle Touch Car Wash at 285 Amherst St. Nashua, NH 03063
Camps Touch Free Car Wash 487 Amherst St. Nashua, NH 03063
Camps Touch Free Car Wash 21 Charron Ave. Nashua, NH 03063
Quick and Clean Laundromat 487 Amherst St. Nashua, NH 03063