Monthly Wash Pass
WASH - RINSE - REPEAT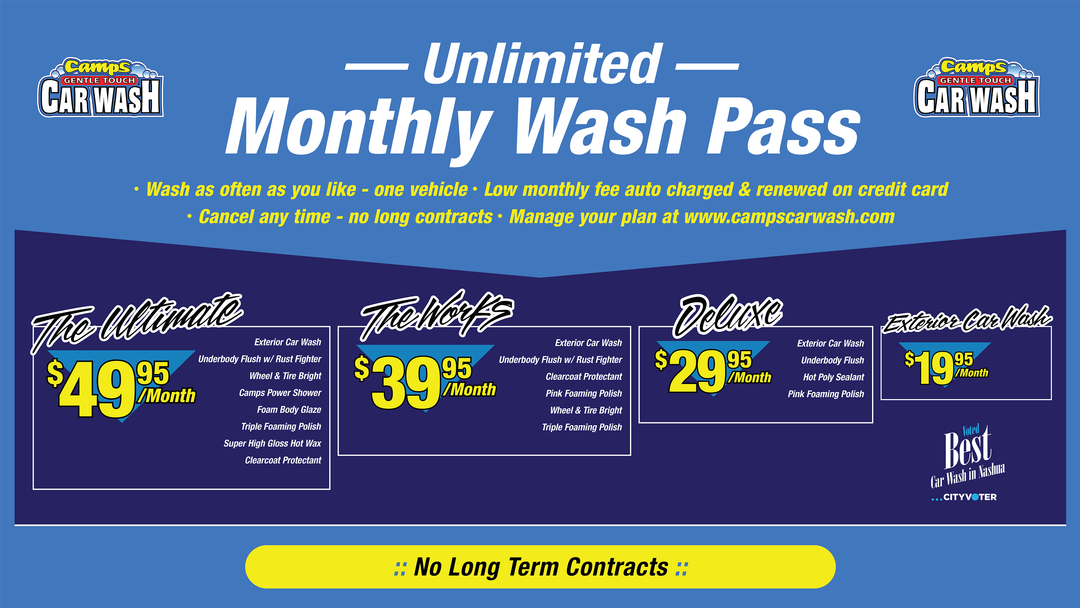 How It Works:

Enroll in our monthly wash pass and wash 1 vehicle as often as you like for one low monthly price!
Option #1:Sign up online and bring your confirmation code with you on your next visit to start washing right away!

Option #2:Sign up at the car wash in person.
Select a plan that is right for you.

Pay with a credit card. (Your enrollment Starts as soon as you sign up)

Your credit card will be auto-billed each month for the selected plan.

A barcoded decal will be applied to your windshield for us to scan each visit.

No long term contracts, cancel anytime.

Enjoy your clean car!
Camps Gentle Touch Car Wash at 285 Amherst St. Nashua, NH 03063
Camps Touch Free Car Wash 487 Amherst St. Nashua, NH 03063
Camps Touch Free Car Wash 21 Charron Ave. Nashua, NH 03063
Quick and Clean Laundromat 487 Amherst St. Nashua, NH 03063